I've always been a gadget nerd and a while back the Raspberry Pi caught my eye. I suppose there's something to be said for extremely small platforms but I wanted a little more than 512MB. The Pi 2 Model B fits the bill perfectly.
The Pi 2 Model B has twice the memory at 1GB and a nifty quad-core ARM processor. I'm lazy, though, so I might as well regurgitate the official spec list.
4 USB ports
40 GPIO pins
Full HDMI port
Ethernet port
Combined 3.5mm audio jack and composite video
Camera interface (CSI)
Display interface (DSI)
Micro SD card slot
VideoCore IV 3D graphics core
The real trick was finding the Pi in stock. At just $35 it seems that they've been flying off the internet shelves. Fortunately, somebody tipped me off to MCM Electronics. Do yourself a favor and check it out.
I'm really not a fan of having loose boards laying around the desk so one of the first things I did was order a case. There are many to choose from. Fortunately they're cheap enough that you can buy several depending on your needs. For example, some of the cases available through MCM don't provide access to the GPIO connector but do have a hole for the camera add-on. The case I purchased has a cutout for the GPIO and slots for both add-on connectors' ribbon cables.
There are a number of accessories you can pick up for your Pi. I'm interested in checking out either the camera or night-vision cameras. The GPS and accelerometer also have interesting potential. I'm really looking forward to playing with this.
Of course, if you're not familiar with the Raspberry Pi, you may be wondering why I'm bothering to mention this here. Well, the Pi runs Linux. At the moment I'm running Raspbian which is a Debian-based distro. If Debian isn't your style there are several distros to choose from. And if you want to play with Microsoft stuff, you can run Windows 10 on your Pi.
The install through NOOBS is pretty straightforward. I picked up a 8 GB card and ran through the official setup guide. The hardest part was the wait while the installation ran. 🙂
Once installed I was off and running. Firefox fired right up and I was a browsing fool. I'm plugged into my 27″ monitor here and it doesn't quite fill the screen. 🙂
And another one with the Epiphany browser and File Manager running.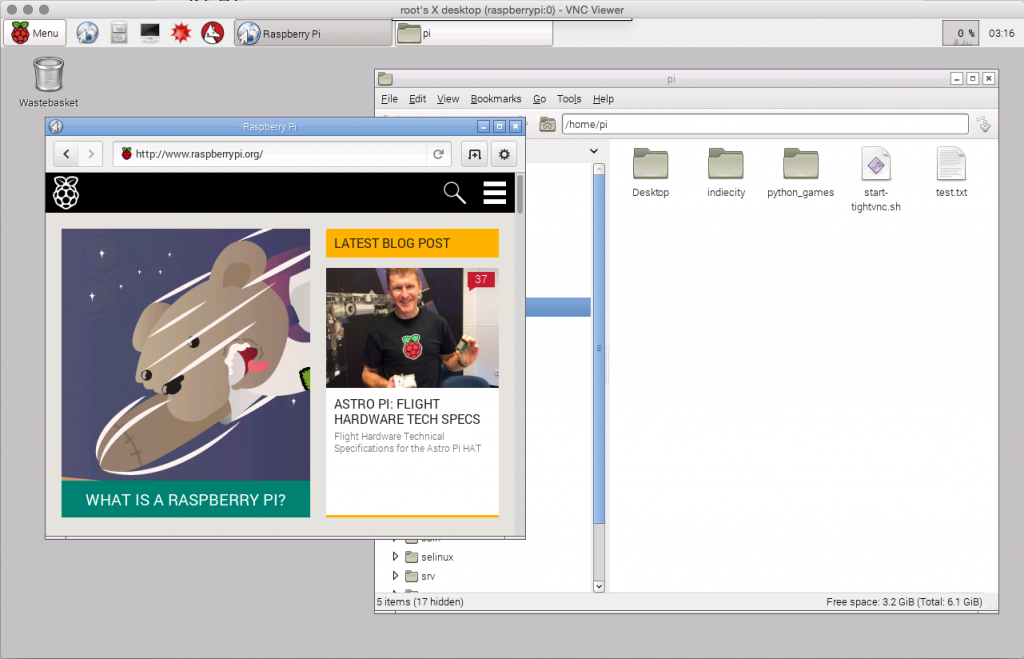 Here's a shot of the console.
I'm looking forward to playing around with this. Not sure what projects I'll work on but the ideas are starting to bounce around in my head.